Perforated Metal Sheet is also called perforated metals, perforated plate, perforated screen. It is sheet metal that has been manually or mechanically stamped or punched to create a pattern of holes, slots, or decorative shapes, it is widely used for filters, machine guards, acoustic noise reduction,decoration, petrochemical, mine and so on.
Customer perforation is our strong side for your service.
Materials: mild steel, galvanized plate, stainless steel plate, copper sheet, aluminum plate, nickel sheet, ect.
Holes: The most required are round, square, slotted and rectangular.
Specification:Thickness from 0.3mm to 12mm.
Finishing: Powder coating, Anodising, Oiled.
Hole Size: from 0.5mm to 20mm (can be customized)
Margin leaving
Margin leaving generally refers to the non-punched area of the punching mesh margins. Generally, a 20 mm-margin is left in the length direction; either completely punching (without margin) or leaving margins according to customer requirements can be realized in the width direction.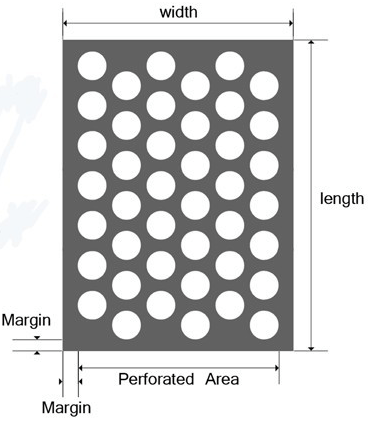 Hole Arrangement
Generally, round holes can be arranged in the following 3 modes:
Other hole patterns and arrangements can be customized according to customer requirements.

Hole Diameter & Pitch
The pitch is the distance center-to-center .

| | | | | | | | | |
| --- | --- | --- | --- | --- | --- | --- | --- | --- |
| Hole size (diameter) | Hole center | Hole type | Open area | | Hole size (diameter) | Hole center | Hole type | Open area |
| 0.02" | 0.043" | 45° staggered | 20% | | 5/32" | 3/16" | 60° staggered | 63% |
| 0.023" | 0.042" | Straight | 22% | | 5/32" | 1/4" | 60° staggered | 34% |
| 0.027" | 0.05" | Straight | 23% | | 3/16" | 7/32" | 60° staggered | 67% |
| 1/32" | 1/6" | 45° staggered | 23% | | 3/16" | 1/4" | 60° staggered | 50% |
| 0.033" | 0.055" | Straight | 28% | | 3/16" | 5/16" | 60° staggered | 32% |
| 0.045" | 0.066" | Straight | 36% | | 3/16" | 3/8" | 60° staggered | 23% |
| 0.045" | 5/64" | 45° staggered | 32% | | 3/16" | 1/2" | Straight | 10% |
| 0.05" | 0.083" | Straight | 29% | | 1/4" | 5/16" | 60° staggered | 58% |
| 3/64" | 3/32" | 60° staggered | 23% | | 1/4" | 3/8" | 60° staggered | 42% |
| 1/16" | 3/32" | 60° staggered | 41% | | 1/4" | 3/8" | Straight | 34% |
| 1/16" | 7/64" | 60° staggered | 27% | | 1/4" | 1/2" | 60° staggered | 23% |
| 1/16" | 1/8" | 60° staggered | 23% | | 1/4" | 1/2" | Straight | 20% |
| 5/64" | 1/8" | 60° staggered | 36% | | 5/16" | 7/16" | 60° staggered | 46% |
| 3/32" | 5/32" | 60° staggered | 33% | | 3/8" | 1/2" | 60° staggered | 52% |
| 3/32" | 3/16" | 60° staggered | 23% | | 3/8" | 9/16" | 60° staggered | 40% |
| 0.117" | 5/32" | 60° staggered | 51% | | 3/4" | 1" | 60° staggered | 51% |
| 1/8" | 3/16" | 60° staggered | 40% | | 1/2" | 11/16" | 60° staggered | 49% |
| 1/8" | 7/32" | 60° staggered | 30% | | 5/8" | 7/8" | 60° staggered | 46% |
| 1/8" | 1/4" | 60° staggered | 23% | | 1" | 1-3/8" | 60° staggered | 48% |
| 9/64" | 3/16" | 60° staggered | 51% | | | | | |